Enroling and login for member profiles
Do I need My Vaccine Pass to attend dog training classes?
Our Committee decided the only way to keep the club open with as minimal disruption to our class was to follow the Government's Protection Framework ot Traffic Light System, and for the use of Vaccine Passes.
When you enrol in our classes uploading or scanning in your vaccine pass is part of the enrolment process. This has been built in by our Club Management System run by Friendly Manager.
Friendly Manager have worked closely with the Ministry of Health on adding this feature to the enrolment process, and Government guidelines are followed closely.
Friendly Manager does not store vaccine pass. The only reference it holds is in your member profile is your name, date of birth and expiry date of the vaccine pass ...see image to lefthand side
I have forgotten my password to my member profile, how do I get a new password?
If you forget your password, email us and we can send you out a temporary password from our club management system.
I have never been to dog training classes before, how do I enrol?
All our enrolments are now done online via our website
Go to the Enrolments page kapitidogtrainingclub.org.nz/register, scroll down to the bottom of the page and click/tap the button that says "New to Kapiti Dog Training Club" fill out your details and your dogs details
Where can I find the terms and conditions?
The terms and conditions are attached to the confirmation email you recieve after the enrolment process.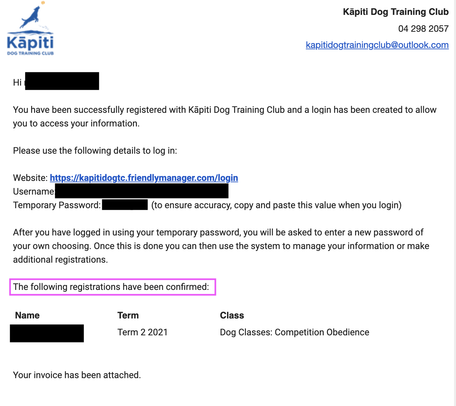 How do I know that I have a place in the training classes?
Immediatley after the enrolement process has been completed you will recieve an email, like the one on the left, if you have a place in the class. You will also recieve an invoice. Your invoice is due for payment 3 days after it is issued.Once this is paid your place in the class is fully confirmed.
I'm on the waitlist, what does this mean?
If you have been put on a waitlist it means that the class you have enrolled for is full. We do our best to reduce waitlist as much as we reasonablly can. We will conatct you if a place becomes avaliable in your chosen class.
Please note we do not automatically add you to the next terms enrolment, you will need to enrol via our website.
If you are placed on a waitlist you will recieve an email similar too the one on the left. No invoice is included until we can offer you a place in a class.


I've enrolled, is there anything else I need to do?

Your invoice is due for payment 3 days after it is issued.Once this is paid your place in the class is fully confirmed.
You will recieve an email from us the weekend before training classes start for the term.
This email will give details on what to expect on the first night of training, and confirm times of classes. We will also attach our training handbook for you to read.
I missed the online enrolments. Can I still join a class?
Our classes fill up very quickly, so it is unlikely that we would be able to find a place for you in the current term's classes.
We can add you to our priority notification list, and email you when we are about to open the online enrolments for the next term.
Please note we do not automatically add you to the next terms enrolment, you will need to enrol via our website
I've enrolled but now I'm unable to attend classes, can I get a refund?
If you can no longer attend the course for any reason, notification as soon as possible would be most appreciated (email kapitidogtrainingclub@outlook.com). Cancellations received seven days prior to the start of the course will be refunded, less a $10 administration charge. Cancellations received within seven days of the start of the course will be refunded on the same basis only if the place can be refilled, otherwise there will be no refund. The Committee may consider written applications for a full or partial refund at their sole discretion and only in exceptional circumstances
I can't find the invoice, what should I do?
If you can't find your invoice let us know as soon as possible, we can resend it to you.
My dog did puppy class at the vets what class do I enrol her in now?
If your puppy is under 6 months they will need to be enroled into our Puppy Class. Our puppy class is set at a level appropriate to the age and attention span of the puppies. Please remember that Puppy classes at the vets are a great steping stone to puppy classes at a dog training club, and the pup will have a whole new environment to learn the commands
Ive got a 4 yrs old dog , that needs some refresher training what class would be best for them?
All dog new to our club who are 6 months or older need to enrol in our New Entrants class. This class is a geat starting point for all adult dogs , weather they need a refresher, or are an older rehomed dog or have just never been to training before.
My puppy/dog is already very good at all the commands at home, can we enrol in a more advanced class?
Lots oof dogs are great at follwoing basic commands at home, what a club like ours proivdes is a new environment and lots of distractions.
We would still encourage you to place your dog in either the Puppy class, for those under 6 months, or the New Entrants class for those 6 months and older. Once in a class your instructor can assess your dog and we can advise on training excercises for their capabilities.
Can I put a reserve on a spot for me and my soon to be new puppy for puppy school next term?
Unfortuatly we do not hold reserve spots for classes. We do operate a priority notification list. We can place you on this list and email you when we are about to open the online enrolments