Grade 3/CGC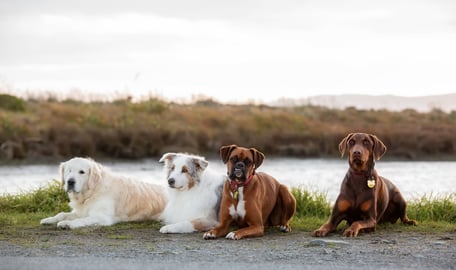 When - Tuesday's 7.30pm (we suggest you arrive around 15 minutes before class starts to walk your dog around and get all the smelling over and done with)
During terms when we are expirencing a high demand for CGC class we also may run an extra class. You will be advised of the time of your class
Pre-requisites: Grade 2 pass
Cost for Term 1: $50 per dog
To enrol in this class, dogs must be fully vaccinated, and must be over 12 months of age
The handler of the dog must be at least 16 years of age and must be accompanied by an adult for the session.


Grade 3 incorperates the Purina Pro Plan Canine Good Citizen™ (CGC) exercises along with starter steps for obedience competitions. In Grade 3, we have also included engagement & disengagement games
The CGC programme which tests dogs in simulated everyday situations. It identifies and rewards dogs that have the training and demeanour to be reliable family members and good-standing community members. CGC focuses on your dogs good manner and odebiencearound everyday situations at home, and in the community. CGC is open to all dogs and owners. CGC training and classes are ongoing, Dogs are progressively assessed through four levels; Foundation, Bronze, Silver and Gold. As each level is passed your achievement is logged with Dogs NZ.
For more information on CGC refer to the Dogs New Zealand website http://www.dogsnz.org.nz/dogs/canine-good-citizen

Competition obedience is great for all breeds, especially high-drive dogs, as it acts as a foundation for all dog sports and is a beneficial addition to domestic training. It is especailly good for hgh drive dogs, but any breed can do well in obdedience .
Like all our classes, obdedience training is based on rewards and enjoyment. The aim is to build on the skills you already have and make it fun for you and your dog, through working as a team you will increasing the bond you have with your dog.
While points are not awarded for style or eagerness, a good competitive dog should be keen to work, full of confidence, quick and responsive, and obviously having fun!
There is no pressure to compete, some owners just enjoy a new level of training. If you would like to compete please speak to your Grade3/CGC instructor
What to bring.
Your instructor will inform you of what items will be needed each week.
What to wear.
For comfort and safety, we recommend closed toe shoes. No jandals, sandals, backless shoes, high heels etc. We train all year-round, warm wet weather gear is needed on winter nights. Feel free to put a dog coat on your dog if you wish, remember that they feel the cold too. Come to class comfortably dressed. Pants are more suitable than skirts.
Registration and vaccination.
Your dog must be currently registered with your local council and microchipped.
Dogs are vaccinated against Canine Distemper, Hepatitis, and Parvovirus. They can also be vaccinated against Kennel Cough and Leptospirosis at your request. Consult your veterinarian re best Vaccination Programme for your dog. Typically your dog would have had two vaccinations before attending. Our grounds are not sterile so it is important that your dog has been vaccinated before attending.
Cancellation Policy.
If you can no longer attend the course for any reason, notification as soon as possible would be most appreciated (email kapitidogtrainingclub@outlook.com). Cancellations received seven days prior to the start of the course will be refunded, less a $10 administration charge. Cancellations received within seven days of the start of the course will be refunded on the same basis only if the place can be refilled, otherwise there will be no refund. The Committee may consider written applications for a full or partial refund at their sole discretion and only in exceptional circumstances