Scent Work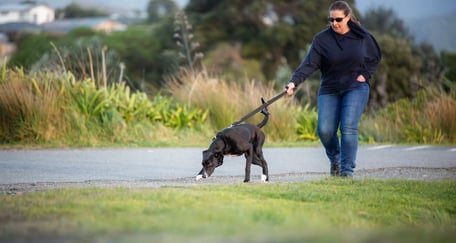 Dog Scent Work is run under Central Search Dogs (Wellington) guidelines.
Training and support are available to anyone wanting to learn how to teach their dog to locate and indicate on a specific scent. Typically essential oils are used in very low concentration. Dogs are taught to indicate when traces of these scents are detected.
This is a new dog sport that's gaining momentum. It's great for any dog and handler, its just you and your dog working together to find the scent that has been hidden in an undisclosed location.
To do Scentwork, a reasonable level of focus and obedience is required. Training is held via Central Search Dogs at varying locations,information is on the CSDNZ Facebook page. Practice days at our club grounds on Tuesday evenings 7.30pm (This class runs for 6 weeks during Term 1 and Term 4)
For more information about Central Search Dogs; please refer to their Facebook page https://www.facebook.com/CSDNZ/
Ask our instructors on training nights if you are interested in trying Scent Work.
When - Tuesdays 7.30pm - this class is only held in Term 1 and Term 4
Pre-requisites: Grade 1 pass
Cost: $30 per term. - NOTE This class will run for 6 weeks
To attend this class, dogs must be fully vaccinated
The handler of the dog must be at least 16 years of age.
The handler is required to have a vaild vaccine pass
Ideally dogs will be over 12 months of age.
What to bring.
Properly fitted flat collar.
Tracking style harness that doesn't restrict movement (not essential for the first session). This MUST only be used for scent work.
A 1.6-metre light weight lead. Leather, nylon or polyester type. No chain or retractable leashes are allowed.Tracking type leads with no loop are best.
Ensure you always have at least two dog poop bags
Pet training bag or clothing with suitable pockets for reward treats.
HIGH VALUE rewards treats. Wet soft treats are best.
For dogs who are not food orientated, find a tug toy they get excited about and keep it specifically for training only, and not general play. No squeaky toys please as these distracts other dogs.
What to wear.
For comfort and safety, we recommend closed toe shoes. No jandals, sandals, backless shoes, high heels etc. We train all year-round, warm wet weather gear is needed on winter nights. Feel free to put a dog coat on your dog if you wish, remember that they feel the cold too. Come to class comfortably dressed. Pants are more suitable than skirts.
Registration and vaccination.
Your dog must be currently registered with your local council and microchipped.
Dogs are vaccinated against Canine Distemper, Hepatitis, and Parvovirus. They can also be vaccinated against Kennel Cough and Leptospirosis at your request. Consult your veterinarian re best Vaccination Programme for your dog. Typically your dog would have had two vaccinations before attending. Our grounds are not sterile so it is important that your dog has been vaccinated before attending.